COMPANY VALUES
Integrity
Relationship Building
Open Communication
Understanding Employee Needs & Expectations
Client Oriented, Trustworthy Care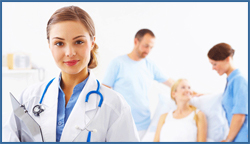 OUR GOAL
To provide the highest quality of care, help to reduce Workers' Compensations costs and practice aggressive medical management
---
COMPANY OVERVIEW
We Work For You
ParkView Medical Group is owned and operated by Couture Medical Group and is a collection of dedicated independent physicians and medical professionals practicing on the campus of ParkView Community Hospital Medical Center.
ParkView Medical Group is an MPN Provider and has the advantage of being an independent health care center. The benefit of being an independent healthcare provider is the ability to adapt quickly to the unique needs of our clients. We provide the employer with a collection of services such as injury prevention, injury care, and return-to work programs.
ParkView Medical Group is not related to any Orthopedic or Physical Therapy groups, allowing for the most efficient specialist referrals.
Our primary goal is to provide the highest quality of care to your employee, reduce workers' compensation costs and to practice aggressive medical management. We can modify specific requirements based upon your company's needs. We resolve inherent problems plaguing the medical industry that lead to excessive injury costs and skyrocketing insurance rates by providing effective integrated services including the following Health and Wellness programs:
Wellness Education
Flu Immunizations
Health Fairs
Worksite Assessments
Pre-Employment Services
In the practice of occupational medicine, ParkView Medical Group corresponds with the injured employee through immediate doctor and work status reports and also corresponds with the carrier and third party payor companies. We understand employers' needs and offer a reliable partnership with excellent benefits.