| | | | |
| --- | --- | --- | --- |
| | Phone: | (951) 353-1021 | |
| | Fax: | (951) 687-0692 | |
To view or download any / all of our Documents and Forms, head over to our Help/Forms Menu.
Wallboards and other forms can be downloaded under our Forms Menu.
MEDICAL SERVICES
From injury care to physical examinations
Highest Quality Care: No over-utilization with the health and safety of the employee. Whenever medically appropriate the accident will be maintained as "First Aid". When the accident is a "recordable" injury, the case will be reviewed as the most effective and efficient treatment to return the employee back to work as soon as medically safe.
It is not our goal to add unnecessary re-visits, x-rays, specialty referrals, medications, or devises to increase profits of the medical center. Utilization review, Back-to-Work, and Modified Duty programs will always be a part of the partnership between the physician and the employer as the employee progresses towards becoming fully functional again.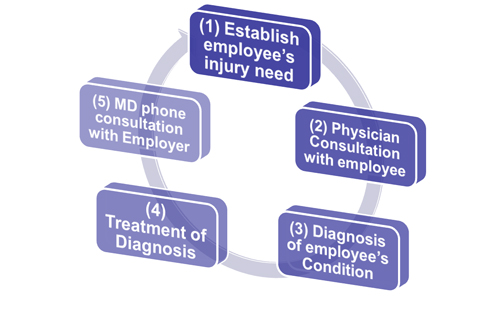 ParkView Medical Group utilizes only physicians to provide the highest quality of injury care. Our physicians are experienced and understand case management and how it directly affects the employer. Also, our physicians are on many of the workers' compensation plans MPN (Medical Provider Networks) that coordinate referrals for patients who have suffered a work related injury.
In addition, following injury care ParkView Medical Group ensures that the employer will receive work status reports, doctor's first reports and an initial phone call to the employer relating case status and approach to treatment. Once again, our experienced physicians will always maintain and present an open and constant communication with the employer allowing ParkView Medical Group to build a healthy business relationship with the employer.
ParkView Medical Group offers comprehensive medical services to its customers, including Orthopedic consultation, a Medical Review Officer, DOT and Non-DOT approved drug screening and Breath Alcohol testing. Additionally, employers may choose from a wide variety of components for Pre-Employment / Post Offer physicals.
Post-Offer Physical
Post-Offer Druf Screens
Breath Alcohol Testing
DOT Physicals
Hazmat Physicals
DOT Drug Testing
Functional Capacity Examinations
PPD, HEP-B, Vaccinations
Pulmonary Functional Testing
Mask Fitting
Nerve Pace and EMG Examinations
Electrocardiogram (EKG)
Pharmacy and Laboratory Services
In-House X-Ray with Radiologist Report
Physical and Occupational Therapy Referrals
Ergonomic Assessments
OSHA/DOT consulting